Packaging
Our products are accompanied by elegant accessories, totally personalized and appropriate to the level of our jewels.
In the picture below you can see part of them.
Top options
RIMLESS 18 K SOLID GOLD FRAME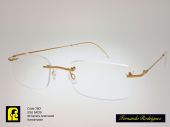 Magnificent rimless frames, completely manufactured in 18 CARATS GOLD.

Distinguished by its flexibility and resilience.Ideal for progressive lenses.

Two options: Yellow Gold REF: 7801
/ White Gold REF: BB7801


Ask for prices.
Transport costs depends on the country. (Ask for details.)
Shipments by express mail. (Less than a week)
Payment before shipment, by bank transfer to our account.